Hotel Port Fornells
The Hotel Port Fornells (HR**) is situated in Ses Salines, just two minutes' walk from the local shop and restaurants, and only a minute's walk from the moorings.
The hotel is a small, family-run 'hostal residencia' with a friendly relaxed ambience. It has a swimming pool, spacious terraces and attractive gardens. The twin rooms on the ground and first floor have private bathrooms with a bath or shower and a balcony or terrace. There is a single room available and we can sometimes offer twin rooms for sole use. Continental breakfast is included and a variety of hot and cold snacks can be purchased throughout the day. All bedrooms have air conditioning.
Our office staff can advise on general queries or personal requirements you may have.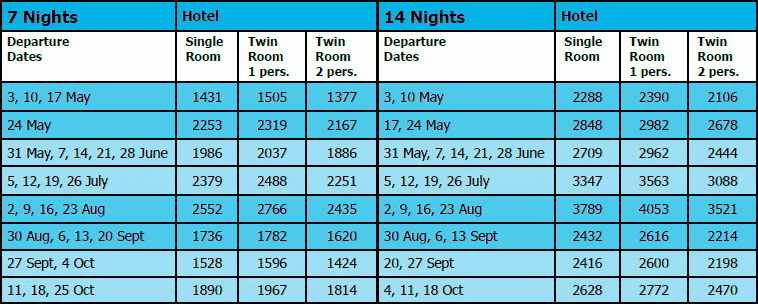 Holiday Prices Include
All tuition
Accommodation
Flights
All sailing and windsurfing tuition and use of boats and windsurfers; self-catering accommodation for number of nights specified; a Friday return flight from Gatwick to Mahon and transfer from Mahon Airport to Ses Salines and return is usually included (to be confirmed at time of booking).
Flights
Friday flight times and carrier are dependent on availability at time of booking. Flight duration from Gatwick to Mahon is approximately 2 hours. Baggage allowance is normally one hold bag of 20kg per person.
Other Airports
Flights to Minorca can be arranged from most UK regional airports. We are able to arrange these for you, often with a supplement.
Own Flight Arrangements
Should you prefer to make your own flight arrangements to and from Minorca, the following reductions apply per person to the holiday price:
| Departure Date | Reduction in £s per person |
| --- | --- |
| 3 May - 17 May, 27 Sept - 4 Oct | £175 |
| 31 May - 28 June, 30 Aug - 20 Sept, 11 - 25 Oct | £225 |
| 24 May, 5 July - 23 Aug | £325 |
We expect the following airlines to fly to Mahon in 2019:
Transfers
The journey time from Mahon Airport to Ses Salines is approximately 25 minutes. Transfers are usually included in the Gatwick holiday price. We will confirm this at the time of booking. Where a transfer is not included we are able to arrange a private transfer. Prices available upon request.
Child Prices
Children under 4 years: 1 week - £298, 2 weeks - £498, plus flight cost.

Children aged 4 - 11 years will receive the following percentage reductions:
Departure Date
Percentage Reductions
Ages 4-5 years
Ages 6-11 years
3 May - 28 June
30 Aug - 25 Oct
 33%
 20%
5 July - 23 Aug
 25%
 10%
Children 12 years and over – full price.
Non-sailors
We welcome non-sailors on our holiday. In our self-catering accommodation providing there are two full paying sailors in your villa, or four full paying sailors in Villa Safina or Casa Celia, the non-sailor's holiday will cost the price of their flight and transfer only. If you wish to stay in the hotel as a non-sailor, please enquire with our office for prices.
Disabled and Less Mobile Sailors
We have self-catering accommodation suitable for disabled use. We also, given adequate notice, are able to provide Access 303 boats which are specifically designed for the less mobile sailor.
Car Rental
We recommend car rental which will add to the enjoyment of your holiday. We offer competitive rates, easy booking and payment in the UK. Prices and availability on request.
Accommodation Cleaning
Self-catering accommodation is cleaned and linen changed every Thursday/Friday. Additional cleaning can be arranged on two days each week at a cost of:
£80/day - Premier Villas
£70/day - Villas Carolina & Phillipe
£55/day - Mistral Villas
£45/day - Villa Apartments & Apartments
WIFI
We expect wifi access to continue to be available throughout the village of Ses Salines.
How to Book
Telephone us on 020 8948 2106 and our staff and directors who regularly visit our sailing centre will advise you on availability and any other aspects of the holiday. Our office hours are 9am to 5.30pm Monday - Friday. We will normally hold your telephone reservation for 24 hours pending the arrival of your deposit of £325 per person. If you cancel the booking you forfeit the deposit. If you book within 10 weeks of departure you must send the whole holiday cost to us at the time of booking.
Confirmation
Once your deposit (or full payment if booking within 10 weeks before departure) is received by us, we will email you your booking confirmation and account along with holiday notes and if we have arranged your flight, your ATOL Certificate.
Payment
We will email you your final account 12 weeks before departure. The full cost of the holiday is due 10 weeks before departure. Payment may be made by bank transfer, debit or credit card, or cheque.
Airline Confirmation
Your travel documents will be emailed to you not less than 10 days before departure.
Alteration
If you need to alter your arrangements after we have sent the confirmation of your booking, there will be an alteration charge of £35 per person for each alteration. If we have purchased aircraft seats on your behalf there may be a higher amendment charge. Any alteration within 8 weeks of departure will be considered as a cancellation and will be subject to normal cancellation charges.
Passports, Visas & Health
For travel to Minorca you need a full passport for each party member including children and infants.

For security reasons airlines are now required to provide passenger passport details to the government Border Control and Security authorities before they travel. This is known as Advance Passenger Information (API). Failure to provide this information may result in delays at both UK departure airports and arrival airports and could result in denied boarding or entry. This information must be provided for all passengers travelling, including children and infants.

The Spanish Authorities also require full passport details for anyone staying in a hotel or tourist self-catering accommodation.

We will require your passport details no later than 2 weeks before departure.

Travel Insurance
SportsCover Direct provides single trip or annual multi trip Sports Travel Insurance for Minorca Sailing. Please click here for details.
×
FCO info!
For the latest travel advice from the Foreign & Commonwealth Office including security and local laws, plus passport and visa information
click here
.