Fornells Bay and Ses Salines
The idyllic Bay of Fornells is situated on the north coast of Minorca and has been the home to Minorca Sailing for more than 25 years. The bay is long and wide with a narrow opening to the sea and offers an endless variety of winds and sailing conditions for the expert, along with the secure feeling of land ahead for the beginner. Our sailing centre is in Ses Salines, a small sailing village away from the tourist beat where life revolves around the beach, corner shop and local bars. All our accommodation in Ses Salines is only a minute or two's walk from the beach and sailing centre.
The rugged north coast of menorca offers excellent walking and mountain biking. There are numerous bays and coves to find and enjoy, and the clear water is excellent for snorkelling.
An Easy Journey
With over a dozen regional UK airports to chose from, traveling to Minorca from any part of the country is quick and easy. Minorca is only two hours away from London and Ses Salines only 25 minutes from the airport. Depending on flight times you can be sailing on the day you arrive and on the day you leave. Driving instructions from Minorca airport can be found on this page. 
Village Map
Below is a simplified map of Ses Salines.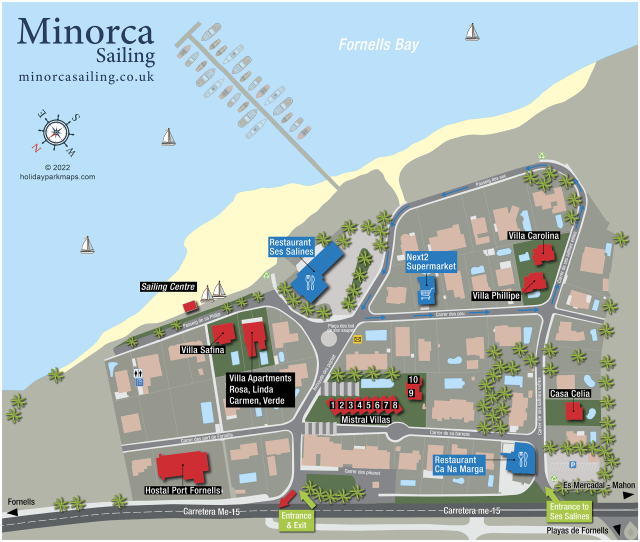 Minorca Sailing Promotional Video
With our privileged location and unrivalled experience, a Minorca Sailing holiday will always deliver.